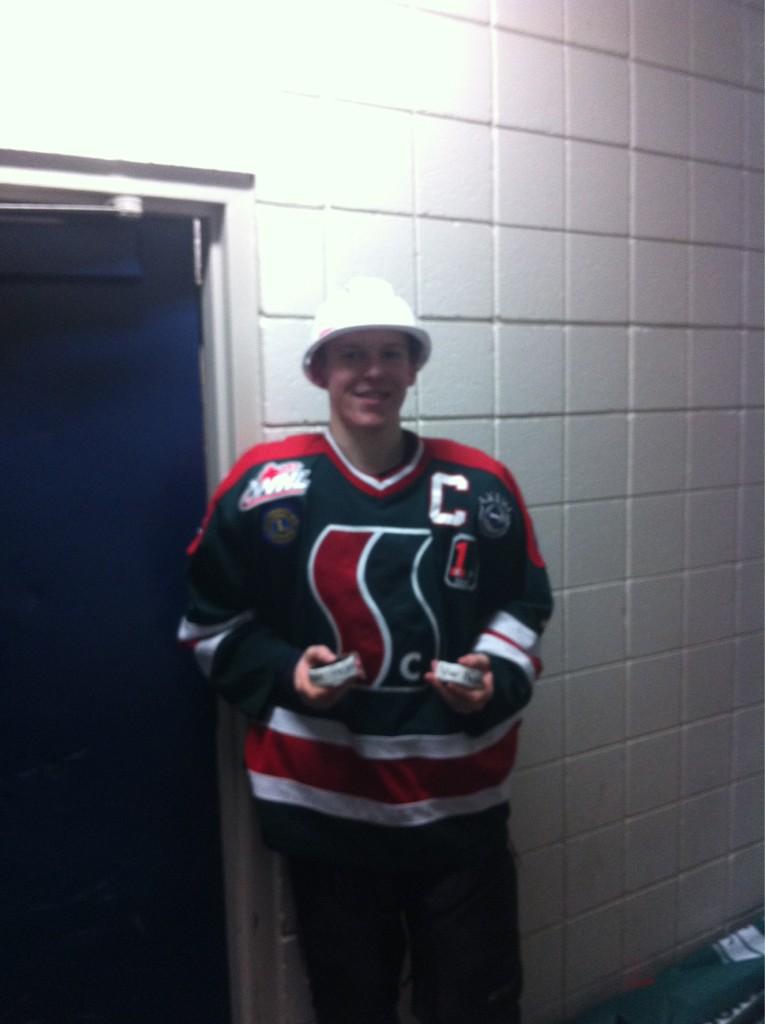 Western Elite Hockey Prospects would like to congratulate both Tyler Benson from Edmonton SSAC and Kale Clague from the Lloydminster Heat on breaking the AMBHL scoring records for defenceman and overall points in a season. Ty Rattie held the previous record of 131 points which Tyler Benson broke tonight with an 11 point game. While Dion Phaneuf held the previous mark by a defenceman with 65. WEHP has Tyler Benson and Kale Clague as the top two rated prospects for the WHL Bantam Draft in May.
Interview - WEHP with Yahoo Sports
There has been no shortage of 15-year-old hockey superstars turning heads in Western Canada this year.
The 2013 Western Hockey League bantam crop, however, doesn't have a prospect that has clearly separated himself from the rest of the pack like last year with B. C. native Mathew Barzal, who was selected first overall by the Seattle Thunderbirds.
As it stands, it seems it is a two-horse race between Edmonton native Tyler Benson and Lloydminster native Kale Clague.
"I think it will come down to Benson or Clague for whoever has the No. 1 pick," says a WHL scout, who asked to remain nameless. "Benson is a power forward that a team could build around, while Clague is a franchise defenceman. It's a win-win situation at this point in terms of their potential."
With Benson and Clague both being natives of Alberta, it seems the Oil-driven province has taken another step forward in separating themselves as the top spot in Western Canada for producing young hockey stars.
"It would be difficult to argue against Alberta being the province with the most talent, season after season," says Tyler Boldt, manager of the WHL's player development and recruitment. "This is shown by WHL Bantam Draft selections, as well as the number of Alberta players currently in the WHL. While each province produces excellent players every year, it seems that Alberta always has the best overall depth."
Nearly every media outlet has put Benson on a pedestal as Western Canada's up-and-coming power-forward sensation. Mark Spector of Sportsnet called him "the next big thing," and NHL.com writer Ryan Dittrick described him as "the real deal."
This high praise wasn't freely given, though. Benson earned it with his outstanding second season with the SSAC Southgate Lions in the Alberta Minor Bantam Hockey League, tallying 47 goals and 122 points in just 27 games.
The 5-foot-11, 181-pound winger, who is the brother of Edmonton Oil Kings' Cole Benson, has the potential to blossom into Western Canada's poster-boy superstar. He is molding into a solid frame, knows how to use his size to his advantage, and possesses uncanny offensive skill and instincts.
"Tyler Benson is most definitely a player to watch," says Tyler Neisz, director of scouting forWestern Elite Hockey Prospects scouting service. "Tyler has a good combination of size, skating, offensive awareness, and defensive play as well. At this point, it looks like Benson has limitless potential in terms of being a star down the road. His style is very much comparable to (Chicago Black Hawks first rounder and Prince Albert Raiders captain) Mark McNeill moving forward in my opinion and should have even a higher offensive upside as well. He is more of a pass first player, but at the bantam level can definitely score when he wants to at times."
Despite some scouts leaning towards him as the No. 1 prospect of the draft, Clague has
Defenceman Kale Clague
been somewhat overshadowed by Benson.
Clague, who has scored 28 goals and 64 points in 26 games with the Lloydminster Heat in the AMBHL, is regarded as the complete package on the back end. The 5-foot-11, 150-pounder has the gritty and fearless attitude to be a shutdown defender and the impeccable offensive instincts and skating ability to be the anchor on a power play.
"Clague has it all," says a WHL scout. "He is a great skater, has a good shot, strong offensive instincts, and uses his body. I think he is in the same calibre as Brycen Martin (Selected second-overall by the Swift Current Broncos in 2011). He is calm with the puck at either end of the ice. This makes him very valuable on the power play and he makes smart decisions with the puck in his own end. I don't know if he'll go No. 1, but he'll be right in the mix. It would be hard to pass him up."
Behind Benson and Clague, Jaeger White stands out as one of the next best options.
Scouts have been marveling over White since he broke Portland Winterhawks star Ty Rattie's peewee record with 124 goals and 148 points in 30 games with the Medicine Hat Venom in the South Central Alberta Hockey League. It is safe to say White was in a couple of peewee goaltenders' nightmares in 2010-11.
The 5-foot-9, 150-pound centre, who is the brother of Moose Jaw Warriors forward Torrin White, suits up for the Burnaby Winter Club in his second year of bantam puck. The program doesn't release their stats until the end of the season, but BTN has learned the Medicine Hat native's point production is impressive enough to drop a jaw or two. After all, he did post a 15-point game in October.
One of the most appealing aspects about White is his character with his maturity being well beyond his years. It appears he has the perfect personality to lead a team with a letter on his chest.
"Jaeger White is one of the elite players of the draft," says Neisz. "He is highly skilled player, perhaps the most skilled player in the draft. He doesn't have the edge to his game that his brother Torrin had at the same age, but his offensive skills are definitely at a high level. He is a very personable person and has a lot of character."
Sam Steel, forward, Sherwood Park United Cycle Flyers (AMBHL) –The vast majority of scouts believe Steel will be a top-5 selection this April in Calgary.
The 5-foot-10, 155-pound centre is tearing up Alberta's top bantam league, notching 40 goals and 79 points in 24 games with Sherwood Park.
Dante Fabbro, defence, Burnaby Winter Club – Some have regarded Fabbro as the top B. C. native of this year's draft.
Fabbro has been a standout blueliner on BWC this year. He has showcased his phenomenal skating ability, puck-moving skills, offensive instincts, and a solid shot.
Brett Howden, forward, Eastman Selects (MMHL) – Howden is one of the few bantam-eligible players that made the jump to the AAA midget ranks this year.
He has showed his age-group bump was the right move for his development by being one of Eastman Selects' top players, scoring eight goals and 19 points in 25 contests.
The 6-foot-1, 170-pound forward plays a very similar two-way style to his older brother, Florida Panthers first-rounder Quinton Howden.
Parker Aucoin, forward, Calgary Northstar Sabres (AMBHL) – Aucoin is a shoot-first player that has scouts drooling over his hard, accurate shot.
The 5-foot-10, 145-pound centre is the leading goal scorer in the AMBHL, notching 50 goals in 26 games, while adding 20 helpers for the Northstar Sabres.